Patients are Cold - They Need Help
On December 7th, 2018, Building Beyond Me donated winter weather clothing, toothbrushes, toothpaste, shampoo, and deodorant to a mental health institution in Puerto Rico. Winter weather clothing, you ask? In a place where the temperature never falls below 72 degrees, and is generally closer to 85?
Yeah, cold weather gear. It stops the shivering.
One day, a couple of weeks ago, I popped into Walgreens to pick up prescriptions and I noticed that they had a winter wear section. It was tiny and adorable, and it struck me as so funny that I had to take a picture, thinking I'd tease my friends living up north.
Why on earth would you ever buy these crazy items here? Well, look at me now as I eat my words. As it was, I'd be the one returning to purchase as much of the section as I could. As a quick note, I spent a brief stint in the mental health hospital under personal and voluntary admittance. Although I didn't receive the therapeutic experience I was hoping for, I learned a great deal, and I am very grateful for the opportunity to be able to reach out for help.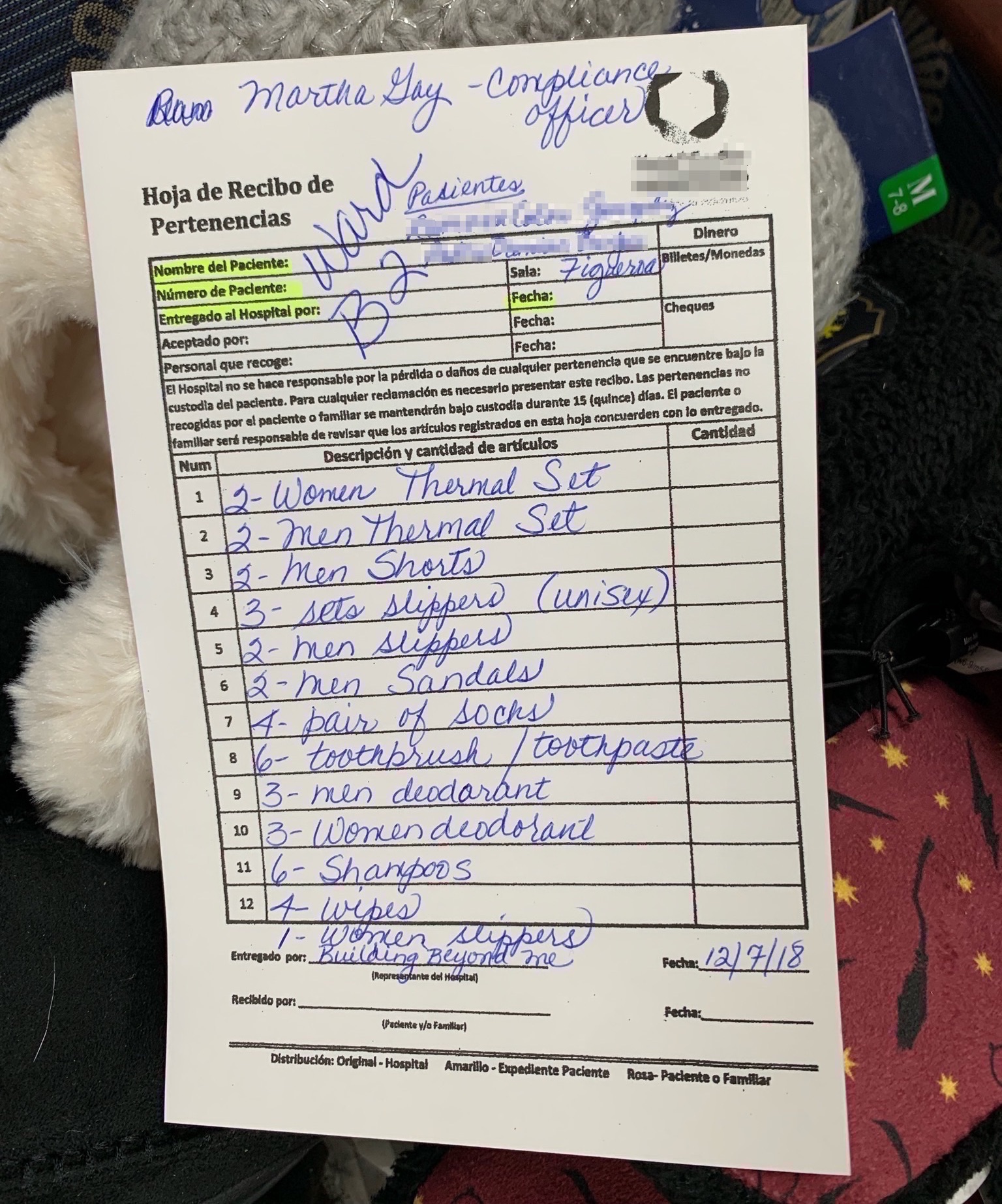 This hospital needs a helping hand.
I spoke with several patients, nursing assistants, case workers, the ethics officer and even the Director of the hospital, Señor Figueroa. I was informed that their biggest need is for personal care items and warm clothing. I know that the problem is bigger than that, and we'll be touching on that soon. As for now, baby steps. Or as they say in Puerto Rico, "poco a poco". Mental health patients are suffering in an air conditioned environment so frigid, that even the nurses wear winter coats to their shifts.
It is the responsibility of patients to arrive with everything they need for their stay, but many of them do not have the opportunity to stock up on the proper supplies for what will be a stay of indeterminate time, and once their supply is depleted, they have no access to a means of purchasing more, as their wallets are locked away with their other belongings that are not allowed in the ward.
In a moment of personal crisis, it is not likely that a person living in a tropical climate will consider donning a coat. Many patients arrive with nothing, and if the clothes on their back don't meet the safety requirements to be in the ward, they are given paper scrubs. I spent my entire stay bundled up as much as possible, shivering all the while. Others were not so lucky.
I was fortunate to arrive at the hospital with a supply of things I would need for myself. If I'd had teeth, I would have brought a toothbrush and toothpaste, but instead I brought my mouth rinse, and that was not allowed in the ward, nor were my bottled waters. I had long sleeve shirts, two large, clean towels, long pants, socks, shoes with no zippers or laces, and a large blanket. I wish I'd known to bring a pillow, but was lucky that one of my towels was fluffy enough that it served that purpose. By the middle of the night, it was added to the layers; me wearing all of my clothes and socks to stop shivering.
Hogwarts was not intentional, but it's fitting. Dumbledore would never let a student suffer.
Each bed, a plastic wrapped cushion on a wooden platform, came with a plain white sheet. It was common to see people wrapped in white sheets up and down the halls and in the common room.
#1 Priority: Help warm the weary. Patients are suffering enough from their own illnesses. They don't need to shiver to death on top of it.
#2 Priority: All the rest. There are layers of complication, and it will take some time for me to illustrate the full picture. For now, I will be returning to the hospital as often as possible with any clothing donations, and will be purchasing more blankets and cold weather gear as funds allow.
Let me know if you know a better way to get started. Cheers.